Boris Johnson will face a day of difficult questions after footage emerged of Number 10 officials joking and laughing about a Christmas party in Downing Street last year during a time of strict COVID restrictions.
The prime minister is set to square off against Labour leader Sir Keir Starmer at PMQs, where he could also face anger from backbenchers in his own party.
PM's 'position is untenable' after leaked 'party' video – as minister pulls out of media interviews – follow live updates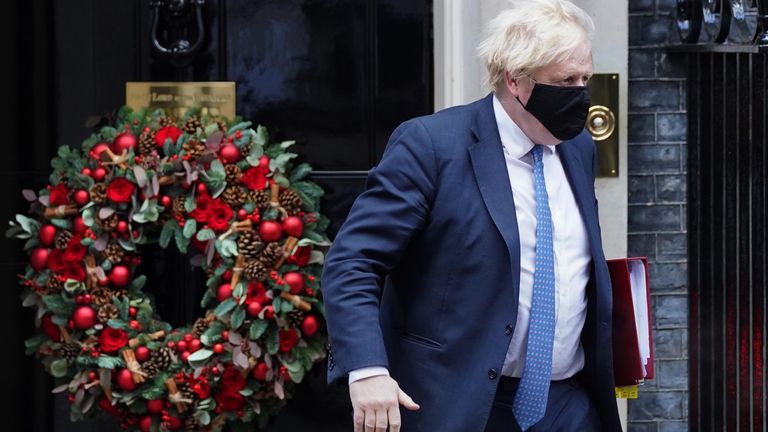 It comes after a video recording of what is reported to be a rehearsal for a TV media briefing emerged, in which senior Number 10 aides were filmed talking and laughing about a Christmas party.
They also jokingly referred to a "business meeting" and a "cheese and wine" event.
The footage, obtained by ITV News, is said to be from 22 December last year – four days after an alleged Christmas party took place in Number 10.
Health Secretary Sajid Javid was set to tour the broadcast studios on Wednesday morning for interviews to mark the one-year anniversary of the first COVID vaccine being administered.
But Sky News has since been told that no one from the government is available.
A series of ministerial visits with media access today have also been pulled.
A Downing Street spokesperson said: "There was no Christmas party. COVID rules have been followed at all times."
'Boris Johnson has to resign'
But Sir Keir has called on Mr Johnson to "come clean and apologise".
"People across the country followed the rules even when that meant being separated from their families, locked down and – tragically for many – unable to say goodbye to their loved ones," he said.
"They had a right to expect that the government was doing the same. To lie and to laugh about those lies is shameful.
"The prime minister now needs to come clean and apologise. It cannot be one rule for the Conservatives and another for everyone else."
The SNP's Westminster leader Ian Blackford told Sky News: "Boris Johnson has to resign."
Conservative MP Sir Roger Gale: "This is like something out of The Thick of It. If you wrote it, people wouldn't believe it.
"Boris Johnson has always been his own man and done his own thing in his own way. I think he has a certain amount of explaining to do."